There is nothing more rewarding than spending the weekend with your loved ones while having some home-cooked comfort food. However, rewarding yourselves with an all-can-you-eat buffet dinner outing once in a while is still something incredibly tempting. Here are some of the absolute best buffet dinners in Penang.
1. Spice Market Café @ Shangri-La's Rasa Sayang Resort & Spa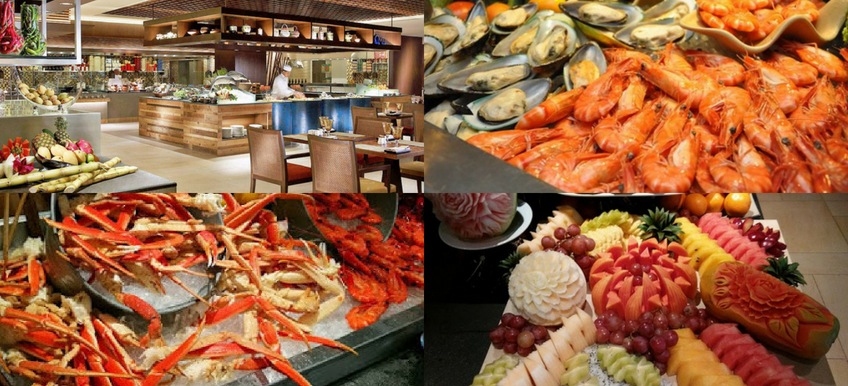 Located in the Garden Wing of the luxurious Shangri-La's Rasa Sayang Resort & Spa, buffet here is definitely plated for the finest taste buds. The resort itself is located in the Batu Ferringhi area known for its beautiful beaches. A contemporary restaurant in concept, Spice Market Café strives to bring out local flavours through its plethora of dishes. True to its name, you can find local herbs and spices infused into various dishes that give you a truly unique culinary experience. You can smell in the air the arome of various spices used such as cardamom, cumin seeds and star anise. Be prepared to indulge in flavours that reflect the rich cultural inheritance of Penang.
2. 59 Sixty @ Komtar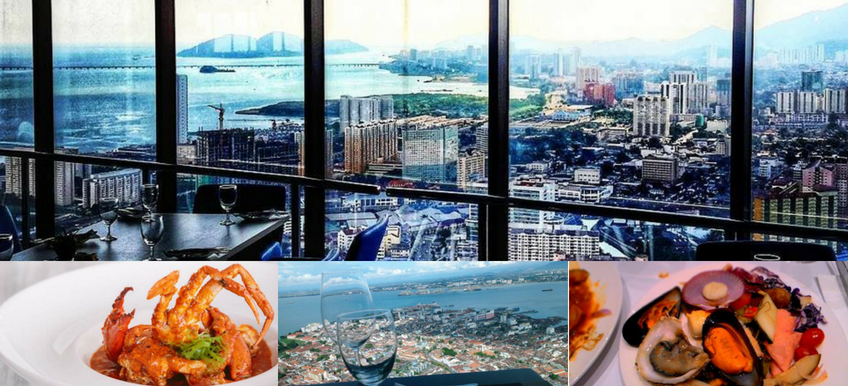 If dining in a seaside resort does not fancy you, perhaps a buffet dinner at the top of the renowned KOMTAR tower will. 59 Sixty offers customers a buffet experience like no other with a complete 360 degree panoramic view of the island of Penang. At night, you can look at the breathtaking beauty of the city lights while feasting on some of the best food they have to offer. Headed by the highly-rated Jason Hall, the restaurant cooks up the finest meals that are simply irresistible. Even the standard buffet dinner offers a variety of culinary styles ranging from local, Western and even Japanese. The seating area is as equally varied with sections designed for a romantic dinner out or a robust family outing.
3. Swez Brasserie @ Eastin Hotel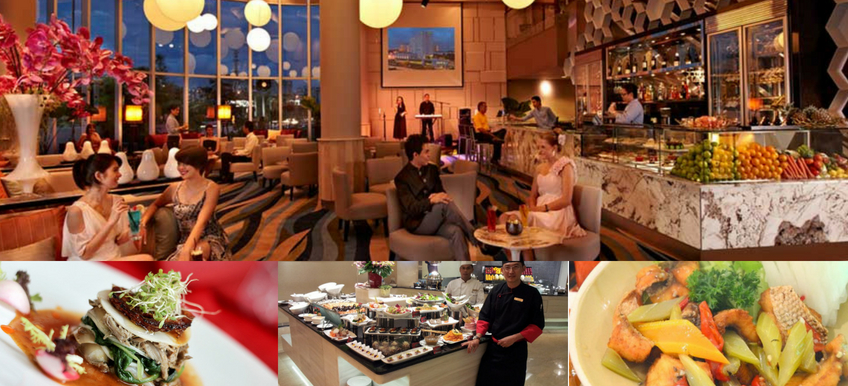 Offering one of the most diverse buffet dinner types, Swez Brasserie is definitely one of the most exciting places to dine in. With a dynamic menu that changes according to season, expect to dine upon delicacies that are mouth-watering as much as they are unpredictable. With soft lighting and lofty ceilings, customers are treated to a gentle and inviting dining experience accompanied by vast open windows. Offering a feast for your eyes and taste buds, the restaurant prides itself in its live action counters. Customers are able to witness first-hand for themselves how the Master Chefs meticulously prepare their meals. Dine here during different times of the year, and it will be as if you went to a different restaurant altogether.
4. Taste Café @ G Hotel Gurney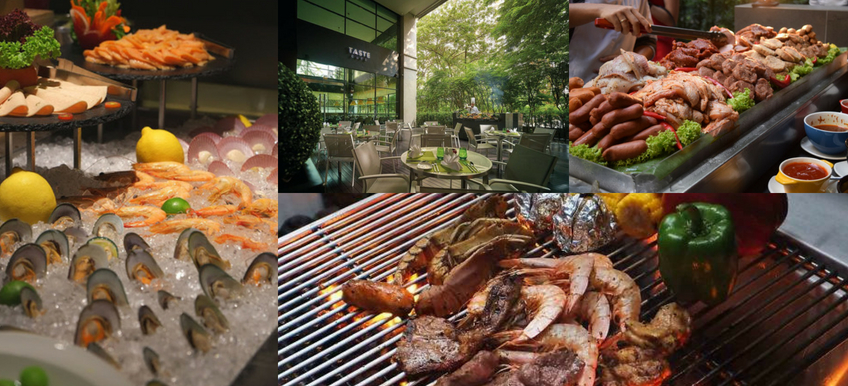 Being situated next to one of the most iconic shopping malls of Penang, G Hotel certainly has a reputation to live up to. Fortunately, the newly renovated Taste Café does not disappoint those who come seeking for a gastronomic treat with its diverse range of buffet dinners. The modern contemporary café is helmed by an Executive Sous Chef with more than 25 years of experience. This guarantees that every single dish plated or served, will have definitely met the approval and requirements of the most demanding standards. Whether it is their signature Grilled Chicken Chop with Taste Café Curry Tomato Sauce or just a simple Char Kuey Tiao, rest assured that your taste buds will be satisfied.
5. Three-Sixty @ Bayview Hotel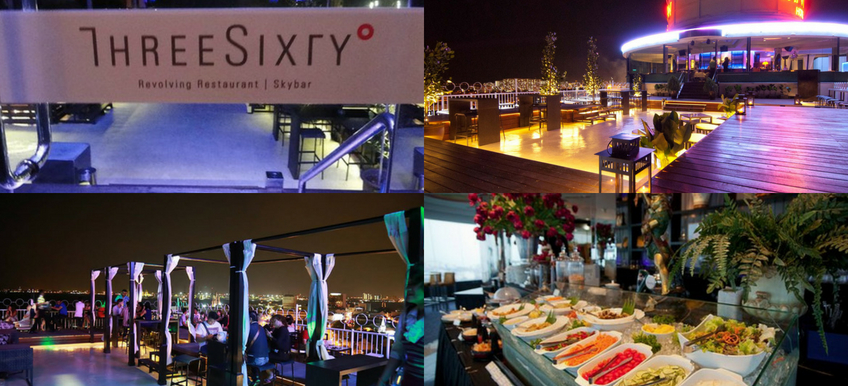 Three-Sixty was the first ever revolving dining experience that one can have in Penang. With a breathtaking view of the Penang Strait, this is surely a buffet experience like no other. Restored to its full glory under a new management, do not let the rotating restaurant gimmick distract you from its wondrous offering of local themed cuisines. A departure from more conventional international cuisines, Three-Sixty specializes in Nyonya and local-styled food. You can find traditional dishes served here such as Inchi Kabin or Nyonya Fried Chicken, Beef Rendang and Lamb Kurma. Be sure to be here early if you want to catch a glimpse of the gorgeous sunset while having some of the best local dishes they have to offer.
6. Starz Diner @ Hard Rock Hotel Penang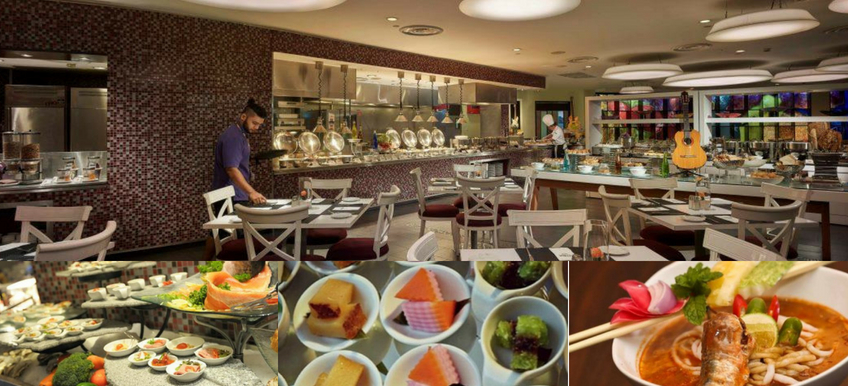 For all you seafood lovers, Starz Diner offers food mainly based on Asian and International cuisine. Located in a trendy punk hotel setting, their signature Seafood On The Rocks buffet delights customers with fresh marine delicacies for the ultimate piscine experience. The restaurant features two show kitchens that cook and serve food straight to your tables. Be mesmerized by the fluid motions of the chefs tossing food in a pan. You can find seafood on ice as a regular here alongside fresh Japanese sashimi and sushi. If that does not tickle your taste buds, local favourites such as prawn noodles and Penang laksa are served here as well. No matter your preference, you will be able to find something that caters to your specific taste here at Starz Diner.
If free flow food and drinks are your pick, be sure not to miss out on these best buffet dinners in Penang.