Penang is famous for its wide variety of hawker foods. From iconic local foods to snacks, you will find a plethora of hawker food choices. Read on to find out what are the best hawker foods you can't miss in Penang.
1. Asam Laksa
Asam Laksa is one of the Penang's signature foods that are commonly available in the hawker food stalls. The thick, spicy and sour fish-based broth is served with the rice noodles. A bowl of Asam Laksa is typically garnished with finely-julienned cucumber, onions, red chillies, pineapple and mint leaves. For additional flavour and extra sweetness, the soup is often served with sweet aromatic shrimp paste on the side.
2. Curry Mee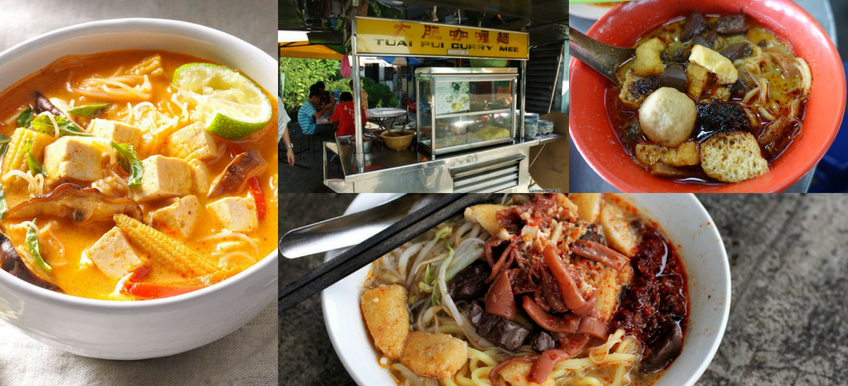 Penang's Curry Mee typically comes with cockles, cuttlefish, tau pok, bean sprouts as well as congealed pork blood. You can choose to have either yellow noodles, vermicelli or both. Also, a spoonful of chilli paste will be provided in every serving. The spicy curry broth is flavourful and will definitely tantalize your taste buds.
3. Hokkien Mee
Hokkien Mee is the pride of Penangites, also known as prawn noodle (Har Mee) in the southern region. The dish consists of sliced boiled egg, prawns, pork meat, kangkung as well as bean sprouts. The main ingredients and noodles are served in rich and savoury prawn broth. Normally, the crunchy fried onion flakes are sprinkled over the noodles for extra crispiness.
4. Char Kuey Kak
Char Kuey Kak is a popular hawker food in Penang. The radish rice cake cubes are fried with bean sprouts, pickled radish, eggs, soy sauce and chilli paste. The texture of the radish rice cakes are soft yet firm to bite, most importantly, they pair well with the main ingredients. Char Kuey Kak is served in small portions, therefore, it is a good choice for breakfast or late night supper.
5. Mee Goreng
Mee Goreng is a Mamak version of fried noodles. The yellow noodles are stir-fried in sweet and spicy sauce, along with bean curd, potatoes, bean sprouts, eggs, dough fritters and vegetables. Mee Goreng is usually served with a wedge of lime as a little squirt of fresh lime juice will add an extra depth of flavour to the noodle. You can savour the tastes of sweet, spicy, salty and sour, all in one plate.
6. Fried Oyster Omelette
Fried Oyster Omelette, or fondly known as Oh Chien by the locals. As one of the popular hawker foods, it is commonly found in Penang. The mix of flour, oysters, eggs and chives are deep-fried until golden brown. Fried Oyster Omelette alone is wonderful as the oysters are fresh, plump and juicy but it tastes even better when dipped in spicy chilli sauce.
7. Rojak
Rojak is a Malaysian fruit salad, coated in a thick, spicy and dark shrimp paste. Rojak typically consists of fruits and vegetables like pineapple, guava, mango, jicama, cucumber and etc. The Rojak paste goes well with your choice of fruits and vegetables and topped with coarsely chopped peanuts. Also, you can enhance the flavour of your Rojak by adding You Tiao (fried dough fritters) and cuttlefish.
8. Loh Bak
The Loh Bak is perfectly marinated with Chinese five-spice powder and deep fried to golden crispy perfection. Aside from Loh Bak, you can choose other deep-fried items individually such as bean curd, spring rolls, prawn fritters and sausages, just to name a few. The Loh Bak is often served with two dipping sauces: chilli sauce and sweet sauce.
Can't wait to try all these best hawker foods in Penang? Hence, it's time to start planning your trip to Penang!