Planning for a trip to Malacca? Imagine the culture, traditions and authentic Nyonya food that you're about to experience in this historical town! If you're coming for more than a day, you'll need the right accommodation for a good rest. Malaysia Mall has prepared a list of 5 best places to stay in Malacca so that you can unwind after a long day.
1.  Rosa Malacca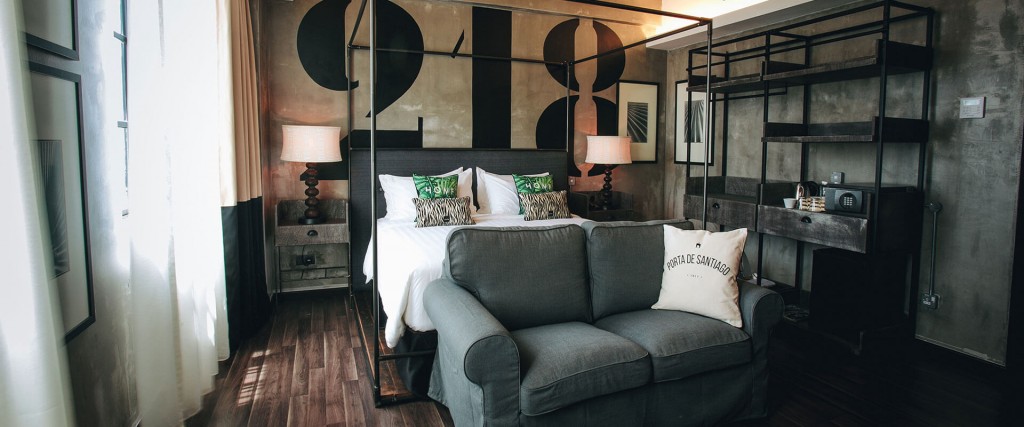 Rosa Malacca is a 4-star hotel that's located about 1km away from A'Famosa. The hotel building that consists of 7 floors stands out among other lower buildings, with its exposed brick walls and untouched cement exterior. Its exterior is a hint to what's inside – a rustically designed interior that's surrounded by the same red brick walls. Filled with industrial characteristic and a hint of modernity, Rosa Malacca is well-known for its design which shows the amount of effort and thought put into it.
Apart from its design, Rosa Malacca offers very spacious and comfortable rooms for couples and also families. Inside the room, toiletries like soap, towel and toothbrush are prepared for guests' convenience.  Depending on the rooms, workspaces and sitting areas with flat-screen TVs are available as well for guests to relax. According to reviews, the rooms are very clean and well-maintained.
Staff at Rosa Malacca can speak English, Mandarin, Malay and even Portuguese. It also includes a café that serves breakfast, fitness centre and a garden. Daily housekeeping, laundry services, luggage storage, and 24-hour front desk service are among the amenities that travellers will appreciate at Rosa Malacca.
2. Holiday Inn

A world-renowned name, Holiday Inn, is one of the best places to stay in Malacca among others as well. The location of Holiday Inn Malacca is next to the sea, so you'll be able to get good sea views in certain rooms.
This hotel features an outdoor infinity pool, sauna, gym and spa, providing a range of activities that you can do in the hotel itself. There's always something to do, so guests will not be bored even if they decide to stay in the hotel for long hours. Besides, there are several restaurants in Holiday Inn that are bound to satisfy your taste buds. Sirocco Italian Restaurant serves delicious Italian dishes; Es.sence Kitchen offers buffet and a variety of international dishes while Herron's Kopi Counter and Sirocco Bar are meant for light snacks and drinks.
The on-site car park makes the hotel suitable for local families who are travelling by car. Additionally, its swimming pool and babysitting services are ideal for families who need a relaxing getaway from the bustling city. The nearest location for sightseeing is the Taming Sari Tower and the Royal Malaysian Customs Department Museum, which are both less than 1km away.
3. Courtyard @ Heeren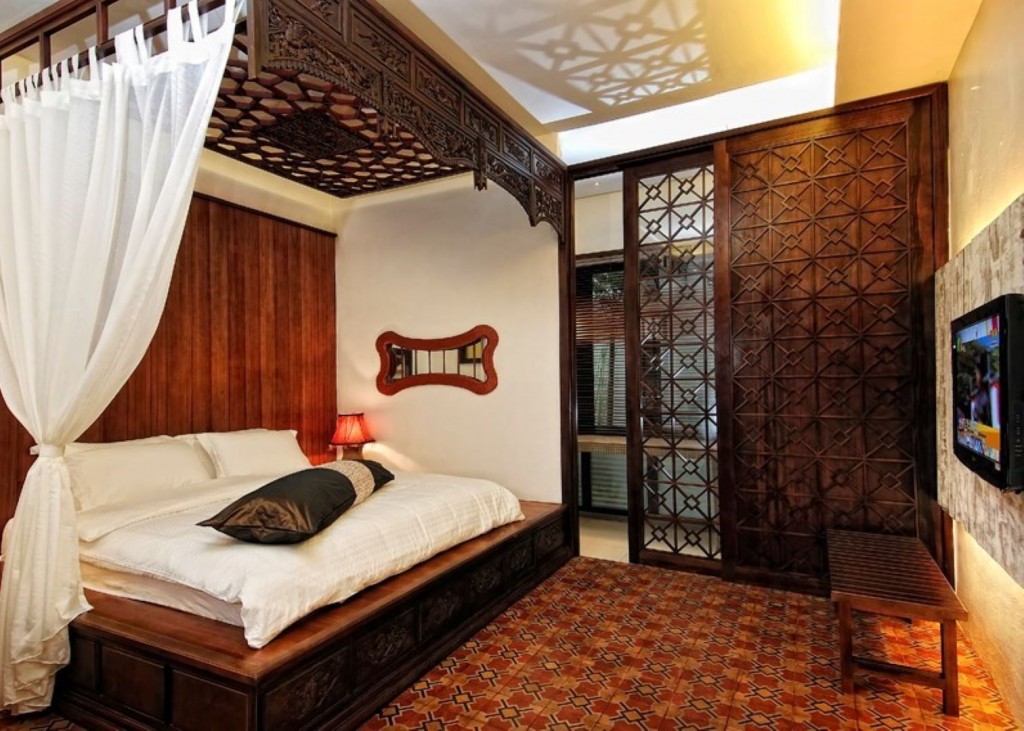 With a good location that's in the heart of town, Courtyard @ Heeren is close to many tourist attractions, namely Jonker Walk and many baba-nyonya museums. Another advantage is that the hotel is close to many restaurants and bars, so you'll never get hungry.   
The Courtyard @ Heeren is a lovely boutique hotel filled with heritage essences. White walls become a backdrop for the wooden elements that surround the spaces of the hotel. Traditional, wooden folding doors and wooden arches with intricate carvings are some of the baba-nyonya attributes that have been significant since the 15th century. This boutique hotel isn't all about heritage, but a fusion of the modern and the traditional. Rooms are still incorporated with wooden details, but not as abundant with heritage items such as those in the common areas of the hotel.
Courtyard @ Heeren is clean and comfortable, with old but well-maintained facilities. Breakfast is provided as well, with a wide array of peranakan dishes and other delicacies to satisfy your taste buds. Customer service is excellent in the Courtyard, where you'll be well taken care of by the warm and friendly hosts.
4. Timez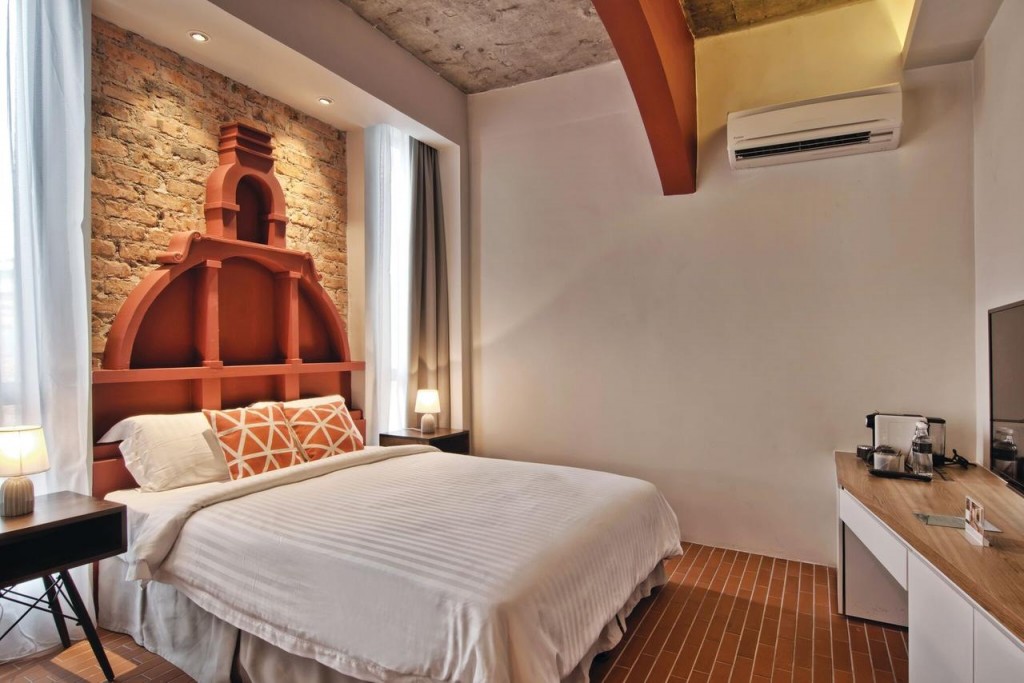 The Timez Modern Heritage Hotel in Malacca has 15 hotel rooms of different themes and designs. Each of them has a unique feature, which is what makes this hotel pretty special. Another hotel that combines modernity with tradition, Timez is using more modern elements as base, but tops it off with a hint of classic.  Some of its rooms are white and simple, creating a clean look and feel. Other times, there will be a pop of colour in addition to the white, such as green, yellow or red, each providing a different aura to the room. There are even rooms that integrate wooden carvings which resemble traditional Chinese folding doors, offering an eccentric design that somehow matches well with the entire room.
Another selling point of this hotel is its proximity to various tourist hotspots such as The Stadhuys, Jonker Walk, A'Famosa, Christ Church Malacca, Malacca Sultanate Museum and may others. They are all less than 1km away from Timez, requiring only a maximum of 10 minutes if you're visiting by foot. The nightly rates are from RM300 to RM600 when you make a booking online.
5. Casa del Rio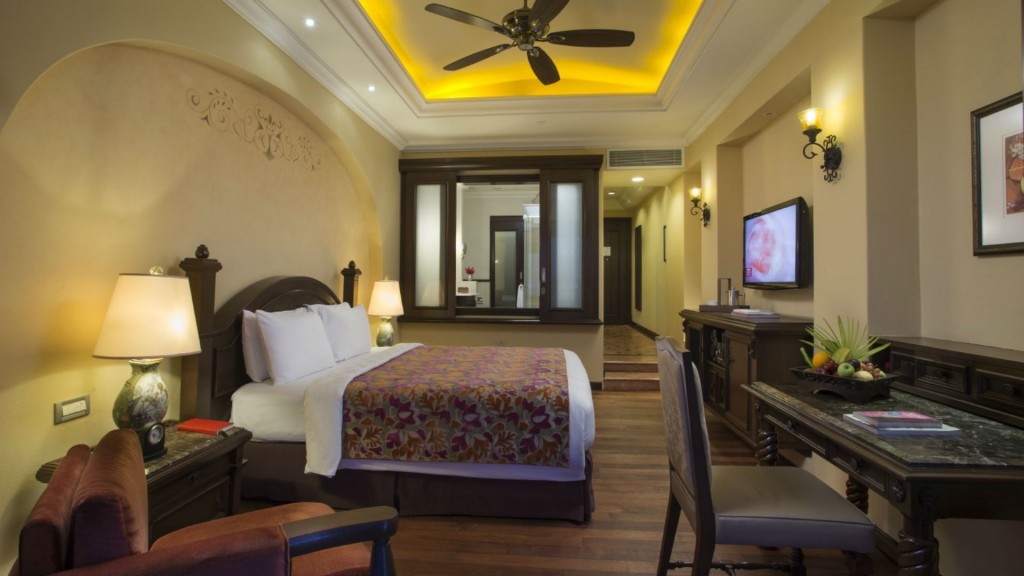 An upscale hotel built next to the Malacca River, Casa del Rio offers luxurious rooms with lavish amenities for its guests. Literally built next to the river, some of the hotel rooms allow you to get a river view once you push open those balcony doors. It's good to enjoy a cup of tea while sitting at the balcony, especially when there's a nice breeze.
One of the highlights of Casa del Rio Malacca is the swimming pool that faces the river. Without a glass border, you can enjoy the view of the passing boats and the goings-on on the opposite side of the river. Additionally, its location in the middle of town makes it really accessible to nearby tourist destinations, eateries and many local museums. You can also find ATM machines, convenience stores and medical centres nearby in case you need them.
The River Grill Restaurant serves buffet breakfast in the morning, and also buffet dinner at night. The dinner is inclusive of a wide variety of food, mainly seafood and local delicacies. For travellers who are driving, parking is not a problem as a public parking is available just across the street, near Jonker Walk. The price can range from around RM850 to RM2300 per night, depending on the type of room you choose.
In a small town like Malacca, the accommodations are unexpectedly plentiful. They range from budget backpackers' hostels to luxurious high-end hotels, catering to diverse travellers who have different needs. These are our top picks for the 5 best places to stay in Malacca, we hope that it'll be able to help you with your next trip to Malacca. Have a pleasant stay!