When they say Penang is a food heaven, they're not joking! From Chinese, Indian, Malay, Western to other variations, you'll find all sorts of delicious food in Penang. In this post, we'll be taking you to the best halal food in Penang.
1. Cendol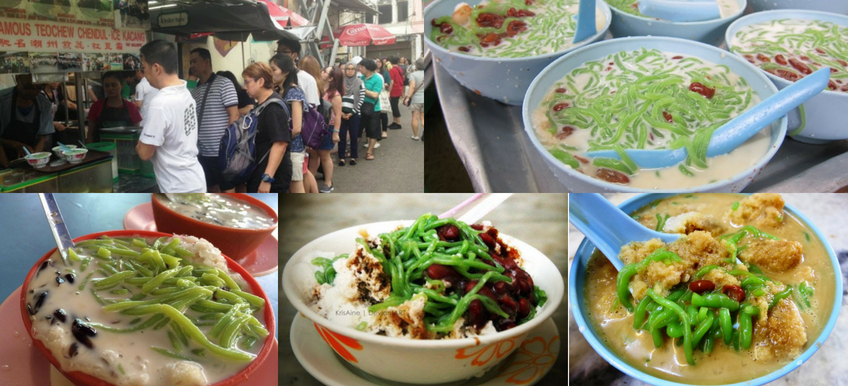 Never leave Penang without having Cendol! A deliciously popular treat in Penang, it's best to have Cendol when you have been walking a lot under the sun. Made of shaved ice, palm sugar, coconut milk, red beans, green jelly (called Cendol), this simple and sweet dessert will leave you wanting more with every spoon.
2. Asam Laksa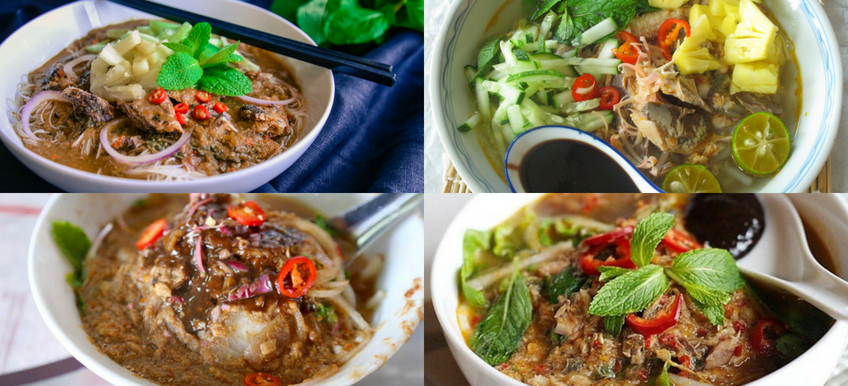 Sour, spicy, salty and a little sweet – the Asam Laksa in Penang is a teaser to your taste buds as it greets them with 3 different tastes in one dish. Every bowl of Asam Laksa comes with springy noodles and pieces of fish in a bowl of sour, spicy and salty broth. Topped with small slices of fruits and vegetables like cucumber, onion, and pineapple, this classic Penang dish is definitely worth a try.
3. Nasi Kandar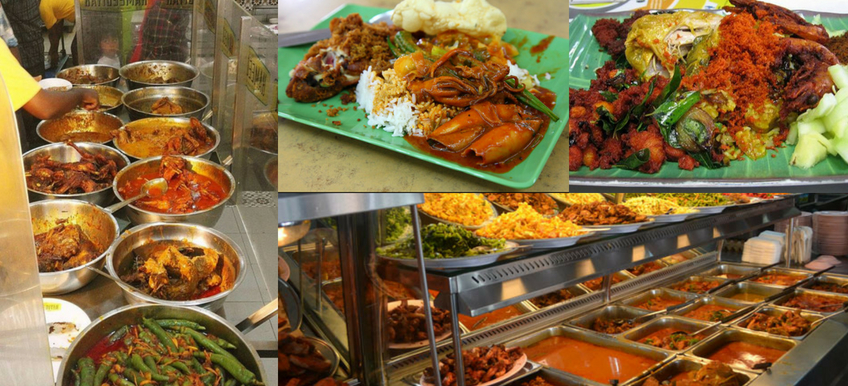 A plate of white rice is your ticket to a great variety of strong, flavourful food that goes extremely well with the rice. Ranging from different meats such as chicken, beef, mutton, fish and prawn, they are cooked in a myriad of spices, resulting in great taste, flavour and colour. Curry, Sambal and so many other gravies are ways in which the meats are cooked. Eating them all together with your rice is the perfect way to have Penang's original Nasi Kandar.
4. Roti Canai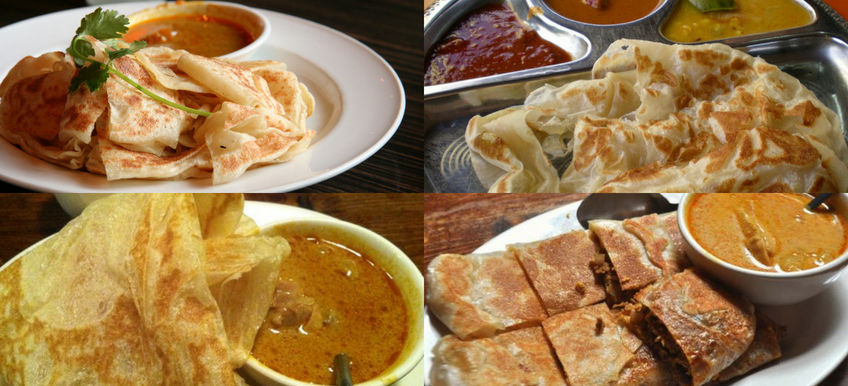 Roti Canai has a texture that resembles a croissant. It's made of flour, but after being tossed and swung in the air multiple times by the chef, what was originally a ball of flour mixture becomes a thin, flat piece of bread. Once it's cooked, the outside becomes crunchy and the inside remains as soft layers. Roti Canai can be eaten with Dahl, chicken curry, fish curry or even sugar. The fragrance of Roti Canai is released with every bite you take, with your choice of gravy adding flavor to each mouthful.
5. Mee Goreng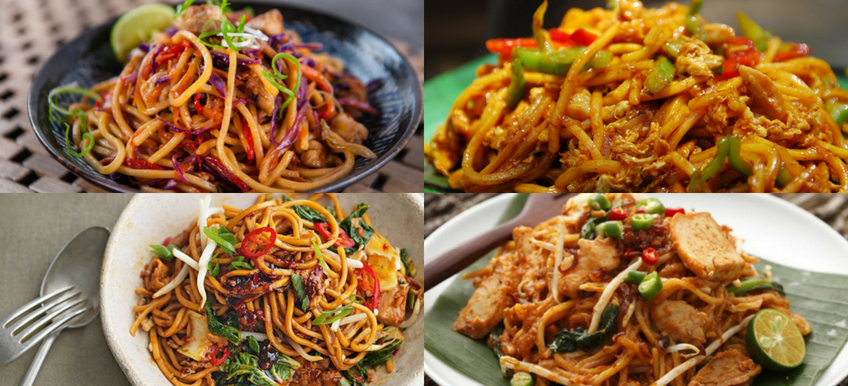 Imagine slurping strips of noodles that are coated with a layer of salty, sweet and spicy sauce…delicious! Mee Goreng, which means fried noodles, are best eaten at Mamak stalls in Penang. Most of the time, the fried noodles served in Penang are not dry and too hard to be eaten. The Mee Goreng that you'll get is usually moist on the outside, with a great flavour to the sauce coating on the outside. Cooked with fish cakes, assorted vegetables, eggs, and sauce, you'll be licking your lips after the final scoop.
6. Mee Udang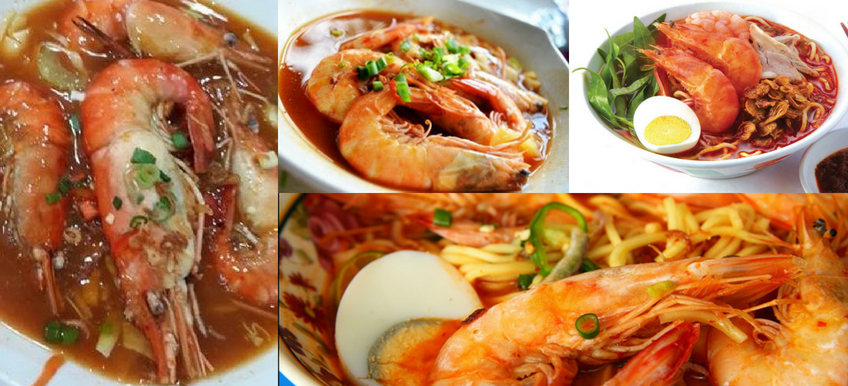 Mee Udang is more known as Har Mee in Penang, which means prawn noodles. Many non-halal stalls serve this, but you can find also find Har Mee at a number of halal stalls around Penang. A soupy dish containing mostly of noodles and prawns, this dish will be entirely different without the soup, which is boiled with the main ingredient – prawns. Therefore, the soup has the essence of fresh prawns and a naturally sweet taste that comes mostly from the prawns as well as other ingredients.
7. Char Kuey Teow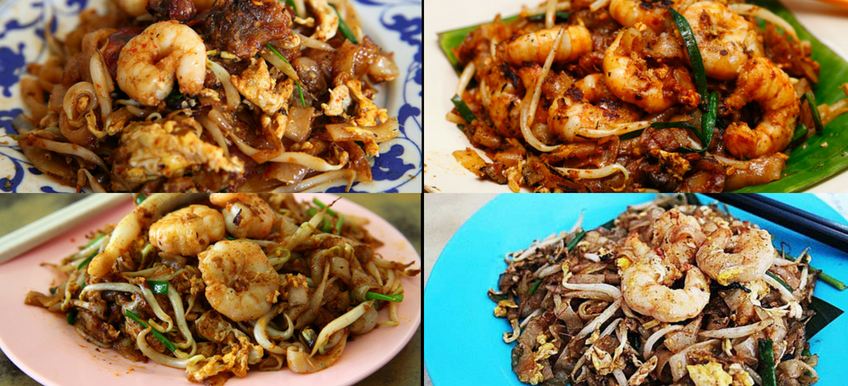 From transparent white to light brown, the flat rice noodles got its colour changed in the process of preparing Char Kuey Teow. The noodles are fried in a wok with ingredients like bean sprouts, cilantro, prawns, duck egg, and sauce. The Char Kuey Teow that you can find in Penang is usually cooked with duck egg, which gives more flavor to the dish. Combined with the "wok hei" (essence and taste produced from frying with the wok), a good plate of Char Kuey Teow would be very tasty. Although most places in Penang serve non-halal Char Kuey Teow, you can easily find halal Char Kuey Teow as well, such as in Bee Hwa Café on Dickens Street.
8. Rojak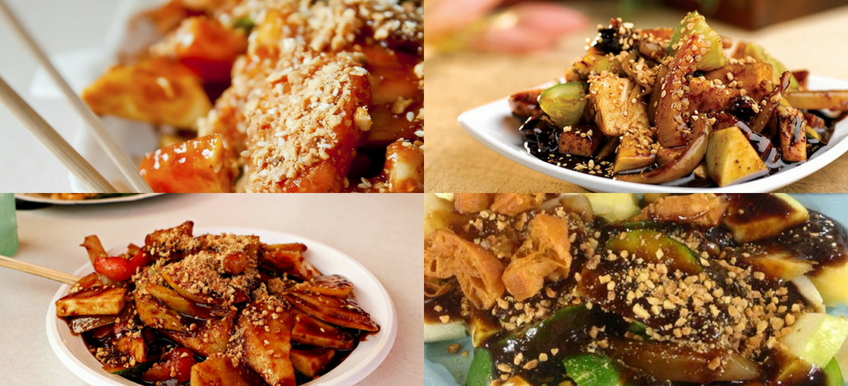 Comprised of unripe mangoes, pineapple, jicama, tofu puff, cucumber and crackers, the Rojak is a special one in the list of halal Penang food. Often eaten as a snack during lunch or tea time, the fresh ingredients are drizzled with a sweet sauce and topped with peanuts before eating. The most important element here is the sauce that's made with tamarind, sugar, chilli and shrimp paste. To some, this sweet and fishy sauce may not suit their taste, but to some, it has the most unique flavour, especially when eaten with the other ingredients in the dish. The sweetness of the sauce creates a great balance between the sour fruits and raw vegetables, hence it's definitely a refreshing dish to be enjoyed by anyone.
9. Toast Bread with Eggs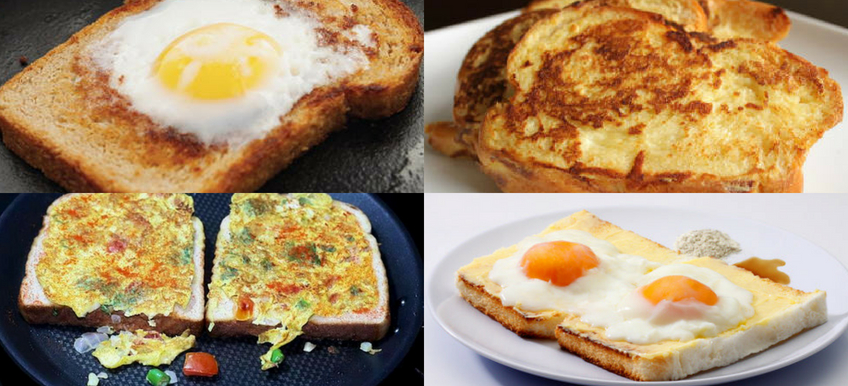 You might be wondering, what makes toast with eggs so special? In Penang, the bread used for toasts are usually Hainan bread which is thick and fluffy. When you order toast, you'll find Kaya (coconut jam) and butter stuffed between 2 slices of crunchy toast. Half-boiled eggs are placed on top of the bread so that the bread will not be too dry. With every bite you take, you can taste the soft eggs and smell the scent of coconut coming from the Kaya. A bit of sweetness and a bit of savoury, toast and eggs for breakfast can never be wrong in Penang.
10. Nasi Melayu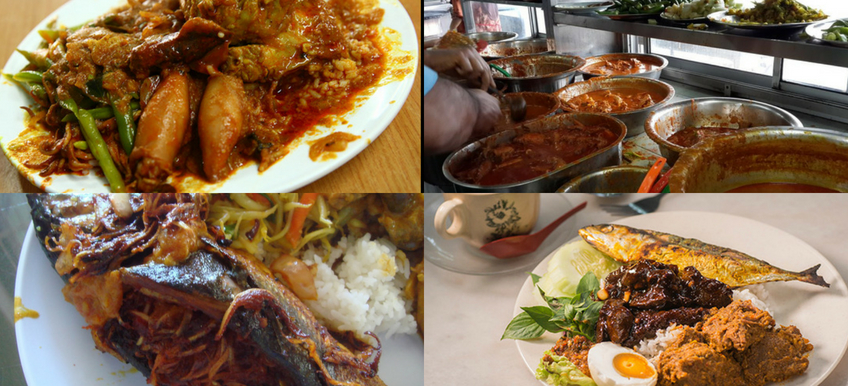 A simple Nasi Melayu may just be the most satisfying meal that makes your tummy and soul happy. Using white rice as base, you get to choose from a range of Malay dishes such as Ayam Kunyit (turmeric chicken), curry chicken, Beef Rendang, fried fish with Sambal, an assortment of different vegetables, eggs and many more. Pour Kuah (gravy) all over your rice in order to taste the strong flavours that stand out when combined with the simplicity of white rice.
Are you drooling with excitement yet? This list of the best halal food in Penang is just waiting to be explored, by you! It's time to head to Penang this weekend for a short getaway in food heaven. Enjoy!