Penang is one of Malaysia's food heaven where you can find a great variety of food. From local food with strong flavours to international food from all over the world, Penang is a place where you'll never go hungry. For those who are looking to get the best Western food in Penang, follow this guide to know more!
1. Healy Mac's Irish Bar & Restaurant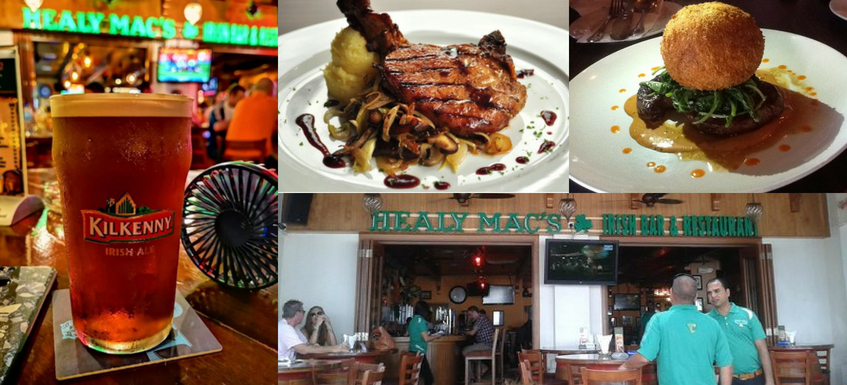 In an environment that reminds one of the pubs in Ireland, Healy Mac's offers alcoholic drinks and Irish bar food in its Straits Quay outlet. Its food menu consists of a variety of starters, meats like pork, beef, lamb and chicken, fish, pizza, desserts, snacks and side orders, with Pork Knuckles and pizza being the must-try dishes there. On the other hand, the bar menu is also filled with different types of beers, cocktails and hard liquor. Apart from a wide selection of food and drinks, its friendly service is another factor that makes its customers return for more.
2. James Foo Western Food
Serving yummy yet affordable Western food to all its patrons, it's no wonder that James Foo Western Food has 4 operating outlets in Penang itself. Among its dishes, some of the popular items on the menu are Chicken Cordon Bleu, Chicken Chop and Fish And Chips. James Foo serves Western food that's simple and unsophisticated, with all its outlets designed in the most basic way. Overall, James Foo is a great place for a simple Western dinner, be it with friends or family.
3. Steak Frites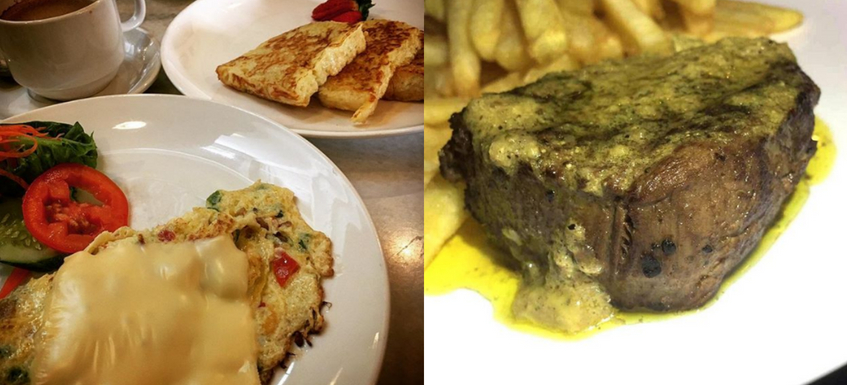 With an address of 23 Love Lane, this heritage restaurant serves only steak as its main course. Customers can choose between the 150g and 200g Australian tenderloin, which will be served with fries as a side. While customers wait for their steak to be cooked, salad, bread and butter will be served as starters. The tenderloin comes with a Café de Paris sauce that adds great flavour to the steak. To complete your meal, order a glass of wine or any other drinks from their 3-page-long beverage menu.
4. Hard Rock Café Penang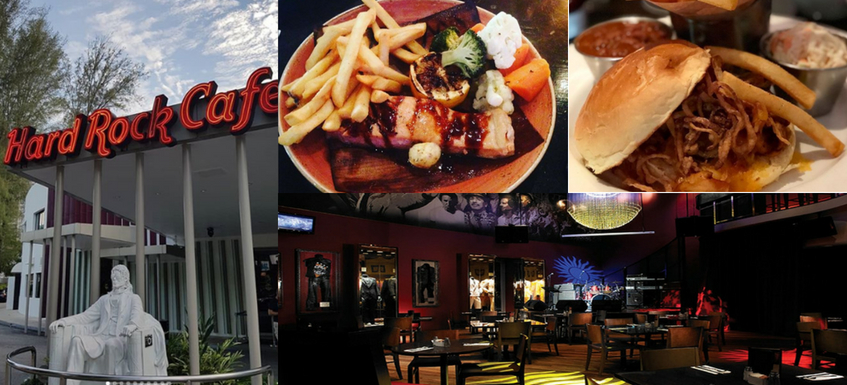 For a name that's internationally known, Hard Rock Café Penang is doing exactly the right thing to maintain its well-known image. With a rock-themed interior that has guitars and vintage costumes as decor, it further amplifies the whole Hard Rock experience. Serving Western dishes like burgers, quesadillas, sandwiches and ribs, Hard Rock Café Penang promises the whole American dining experience. Live band performances start at 10.30pm every night, so you can sip on your drink while enjoying the music.
5. No Eyed Deer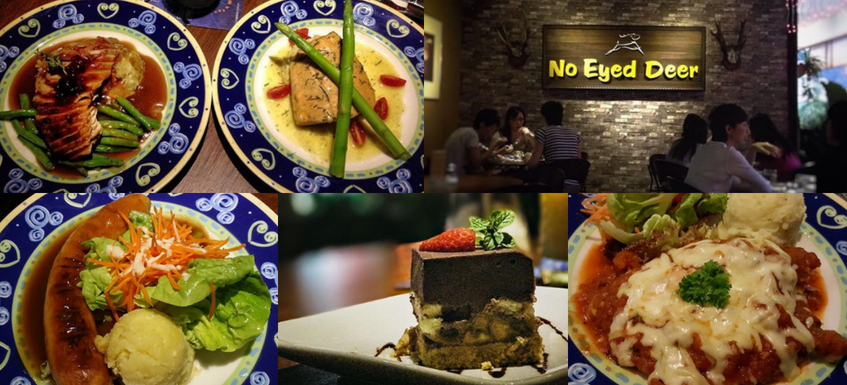 If you're looking for a simple yet delicious Western dinner in Penang, No Eyed Dear is the place to go. Compared to its limited lunch menu, the dinner menu offers a greater variety of food, which is where most of the Western food is served. Traditional Grilled Steak, Chicken Parmigiana, Jumbo Vienna Sausage, Chilli Lime Barramundi, Hearty Beef Stew are some of the Western food options that are available on its dinner menu. On Sundays, No Eyed Deer even serves roast beef with Yorkshire pudding, a highly commendable dish at the restaurant. Its desserts are also very delicious, especially the coffee jelly, which has received a lot of good reviews.
6. Vintage Bulgaria Restaurant & Bar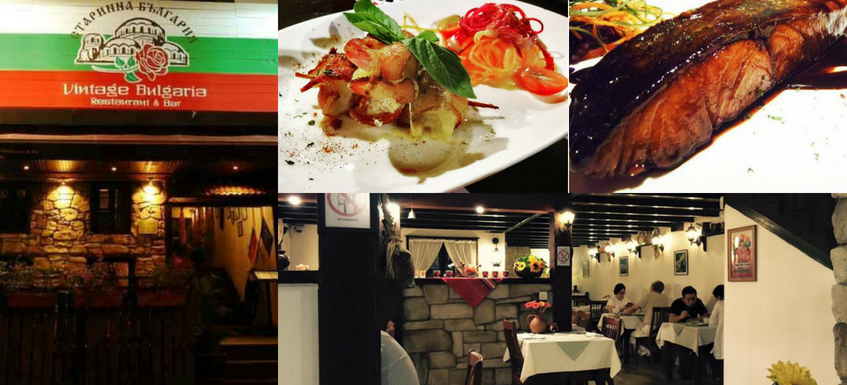 A cosy setting welcomes you once you step into Vintage Bulgaria, with wooden ceilings, white walls and warm light oozing from yellow lamps. Their Plovdiv Ribs and Sausage Platter are very popular among the patrons due to their amazing flavours. The Plovdiv Ribs are a must-have because of the way it's presented – beef ribs vertically placed together on the plate, so that they resemble a crown. Besides the red meat dishes mentioned, the Shopska Salad is also an authentic Bulgarian dish favourited by many customers. This place also offers a selection of wines and other alcoholic beverages which complete a lovely Bulgarian dinner.
7. What The Duck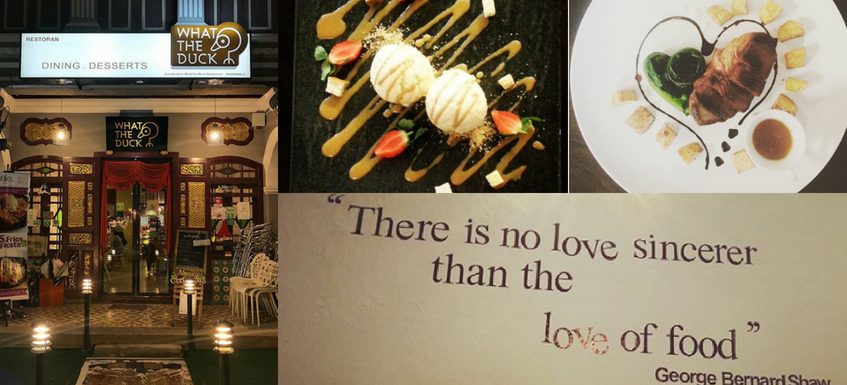 Fresh salads, delicious duck meat and tasty desserts, what's more to complain? What The Duck offers duck meat dishes with names that sound delicious, even before you consume them. Honey Sesame Glazed Duck, Oven Stew Duck With Barley And Red Wine, Dallas Style Barbecued Duck are some of the main courses that can be found on their food menu. Although many of their dishes contain duck meat, duck-free dishes like Oven Baked Tomato Jam Crusted Salmon, Spicy Vegetarian Pasta, Chicken Roulade, Red Wine Slow Braised Lamb Shank and Grilled Rib-Eye Steak are available as well.
8. Fisherman's Grill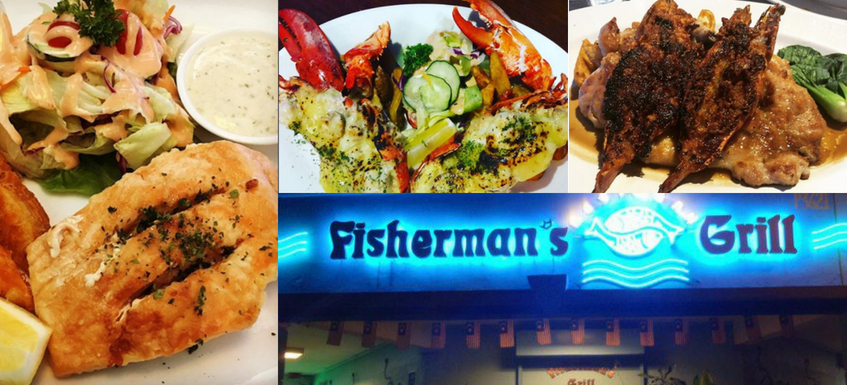 Fisherman's Grill serves a variety of fresh seafood such as salmon, cod, king prawn, mussel, crab and lobster in its cosy, blue interior that remind people of the ocean. Apart from seafood, this restaurant also offers beef steak, lamb chop and chicken chop that are cooked to perfection. Even though it markets itself as a seafood restaurant, their steaks are nicely done according to customers' requests. Soups, salads and desserts are available on the menu as well. Not to forget their well presented beverages that come in so many colours.
9. Feringgi Grill (Shangri-La's Rasa Sayang Resort & Spa)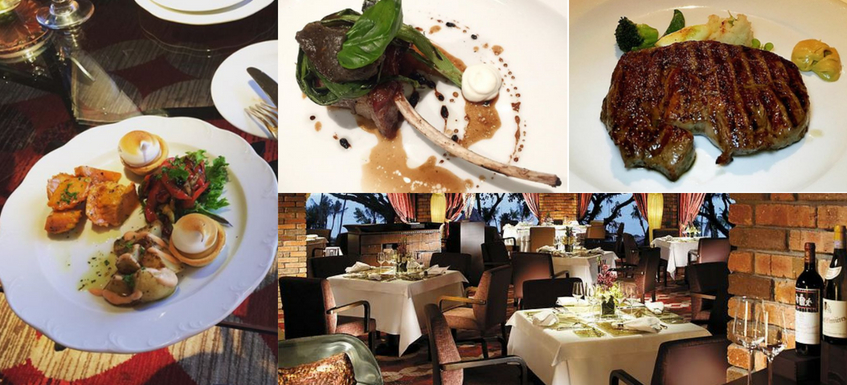 The Feringgi Grill at Shangri-La's Rasa Sayang Resort & Spa is the place to go for a fine dining experience. You are required to make reservations for a full-course meal prior to your arrival. Two of their signature starters are the Caesar Salad and Tomato Soup, and the latter will be prepared right in front of your eyes by the chef – entertaining and guaranteed delicious. Their signature main course – the Prime Ribs, are juicy and tender, served with gravy and Yorkshire pudding by the side. Moreover, every wonderful meal comes with a sweet ending that consists of delicate desserts.
10. Georgetown Wines
Georgetown Wines has an exterior that's quaint yet modern, with a nice vibe that definitely attracts attention. Although its main focus is on its wines, this place offers great food to go with your drink as well. Their steak dishes are commendable, but some of these dishes may be made only upon request. Georgetown Wines' pastas are also highly recommended, especially their King Prawn Pasta. Apart from its food, the restaurant offers a cosy indoor seating and alfresco dining as well, providing a good atmosphere where you can enjoy bottles of wine chosen from their cellar.
Have you decided which to visit from the list of the best Western food that you can find in Penang?