Penang War Museum located at Batu Maung, the South East part of the Penang Island. It is a renowned landmark for its historical events and timelines. Today, this 20- acre museum served as the memorial site and houses a collection of historical artefacts such as military tunnels, ammunition bunkers, sleeping chambers, canon firing bays, logistic centre, gun emplacements, medical infirmary and etc.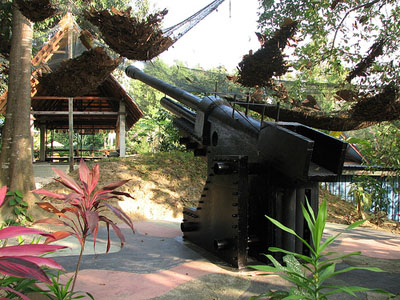 Trace its origins back to 1930s, it was a military defence fortress that built by the British in order to protect the island from Japanese invasion. However, this fortress fell to the Japanese during World War II. From the start of the war in 1941, it was used as a Japanese army base for interrogation purposes– where prisoners were beheaded, tortured and starved to death.  The hill was then known as "Bukit Hantu" by the locals due to the intense period of killing.
The fortress was abandoned in 1945 after the end of the war. 30 years later, the fortress was restored and being turned into a museum. When Penang War Museum opened to the public in 2002, it was the first of its kind in Southeast Asia.
This museum harks back to the 1930s, telling the story of those who fought and died, giving visitors the opportunity to experience and enhance their awareness of Malaysia's history and past. The extensive collections of historical artefacts and war paraphernalia narrate the living conditions and also the greatest struggles of inmates during the war.
Apart from walking along this historical site, there's a lot to experience as visitors can join the spooky night tours, take part in the paintball match, explore the underground bunkers as well as crawl through the narrow and dark tunnels.
Other Places in Penang You Must Visit: