The Clan Jetties in Penang at Weld Quay is a beautiful sight to tourists now, yet it holds a deep cultural history of the Chinese immigrants who migrated here for a better life. 6 jetties, which are the Chew, Lim, Tan, Lee, Yeoh and the Mixed Clan Jetty, still exist until today. 3 of the clans – Lim, Chew and Lee provided services for harbour-related activities, while the Tan and Yeoh clans were involved in the firewood and charcoal industry. In the 1880's, the jetties were just short landing stages to anchor boats and unload goods. As time passed, the jetties slowly became settlements of the Chinese clans, and each clan claimed their property. This led to the branched out jetties which are identified according to different surnames. Although there were more jetties before, at present Penang is only left with 6 jetties due to demolition.
If you walk along Weld Quay, you'll get to explore the jetties one by one, from Lim Jetty to Yeoh Jetty, or vice versa. However, Chew Jetty remains the most popular jetty aside from being the longest. Upon reaching Chew Jetty, you'll be welcomed by a temple where religious festivals are still being held annually. After the temple, you will be stepping on the wooden path that leads you to the end of the jetty. Houses line both sides of the jetty, leaving a narrow alley for people to walk on.  Stores selling cute and quirky souvenirs, snacks and drinks are along the path. So, if you're feeling thirsty, make a stop and enjoy refreshing items such as ice cream and drinks made out of tropical fruits.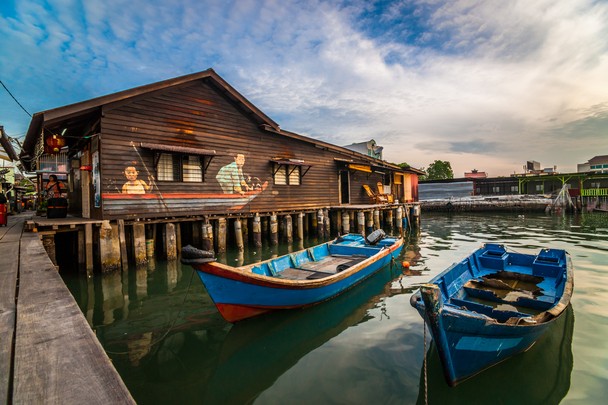 The best time to visit the jetties is during dusk. As the sun goes down, you'll be able to snap beautiful panoramic photos at the edge of the jetty. Chew Jetty and Lim Jetty offer very good views during the evening, so catch them before the sun goes down! At night, Chew Jetty will be bathed in a warm, yellow light, and standing in the middle of the jetty is like being in a painted picture.
Tip: Please be considerate when taking photos at the jetties as residents still live inside the houses.
Others Penang Places You Must Visit: